Springfield FastFood Boulevard in Universal Studios Orlando
Down a mug at Moe's or gobble up a mean Krusty Burger in this new Simpsons-themed fast food park that just opened in Universal Studios in Orlando, Florida.
Simpson's fans could go mad. Here you got all of Springfield's sensational food stops in real life. Go nuts for donuts in the name of Chief Wiggum in Lard Lad Donuts. Slurp down a steaming lobster (or take one home as a pet) in the Frying Dutchman. You can hang out with Moe at his Tavern, but just don't try robbing Apu in the Kwik-E-Mart.
The Springfield Fastfood Boulevard is also the only place in the world where you can grab a can of Duff Beer, brewed exclusively in the Duff Brewery. There's also an outpost of Flaming Moe's where you could grab a glass of the famous smokin' drink.
Other stops include Luigi's Pizza, Lisa's Teahouse (of Horror), Cletus's Chicken Snack, and the Bumblebee Man Taco Truck.  Also watch out for the upcoming Kang & Kodo's Twist'n' Hurl, which takes "foolish humans" on a crazy intergalactic spin that throws them to outer space.
In the words of Denise Sirkot, President of Worldwide Brand, Gracie Films: "Truly this is the Krustyest place on earth."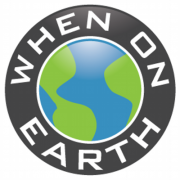 WOE Media
When On Earth Magazine is for people who love travel. We provide informative travel guides, tips, ideas and advice regarding places to see, things to do, what to taste, and much more for world travelers seeking their next dream vacation destination.