Fly on the Road with the Space Shuttle Cafe
Here's the Space Shuttle Cafe: an ex-space shuttle craft, an ex-motor home, an ex-school bus, and originally a Douglas DC-3 aircraft. After years of transformation from one owner to another, it had become a quirky mobile kitchen which served since 2005.
When you see the Space Shuttle Cafe, you'd think it looks like a real space shuttle but actually it's an aircraft that has been through a lot from 1944. It was flown during the Second World War, then flown as a commercial aircraft and later on, it took its break in 1977. It was changed into different functions right after someone salvaged the aircraft. Now, it's happy to be working as a Space Shuttle on the road.
If you go inside, you'll see that it is completely furnished with its stainless-steel cooking area, generators, fresh water and waste tanks, griller, freezer, heater, fans, sink, cook top and more. Everything's right there ready for business while on the road.
The Space Shuttle Cafe isn't only limited for food use as it can be modified for other purposes. Check out the website for more info.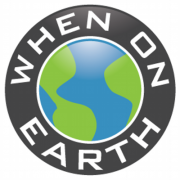 WOE Media
When On Earth Magazine is for people who love travel. We provide informative travel guides, tips, ideas and advice regarding places to see, things to do, what to taste, and much more for world travelers seeking their next dream vacation destination.