Dine in a floating tree pod in Thailand
Dining with a view has started to sound too cliché. That's probably why this resort in Thailand gave it an unexpected twist.
Tucked in the small, secluded island of Koh Kood, eastern Thailand is Soneva Kiri, a luxurious eco-resort that offers top-of-the-line VIP treatment to its guests. It's the kind of resort that has private infinity pools, sunrise cruises, personal butlers, and chilled chocolate rooms. But if there's anything this place has up against other fancy resorts is this: a stylish tree pod dining suite that elevates itself up a tree to a fantastic view of the Gulf. And while that's cool enough on its own, the rich Thai cuisine comes to your table served by waiters on a zip line. How's that for presentation.
The resort was designed by the Dutch firm 24H Architecture with the overall design principle of mimicking the natural surroundings. Consequently, the dining pod made of woven rattan looks something short of a giant coconut dangling from the tree when seen from below. It has no stairs or ladders but has a system of cables and winches while allows guests to enter the pod on the ground level and be drawn up as its own automatic lift. It can fit up to 4 people at a time and is often fully booked at dinner time.
As for the waiters, all we can say is that Thailand is definitely the place to go for extraordinary performances paired with food. Carrying a tray of exquisitely prepared cuisine while doing that kind of trapeze act is quite a feat that kinda reminds you of the stuff they do at the Ka Tron Flying Chicken Restaurant. Thailand, we totally got our eyes on you.
For more down-to-earth dining, Soneva Kiri also has a number of dining suites with a less spectacular view, but with equally awesome food. Also, check out their hanging suites and the crazy fantastic playhouse for kids on their official site.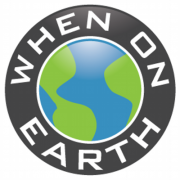 WOE Media
When On Earth Magazine is for people who love travel. We provide informative travel guides, tips, ideas and advice regarding places to see, things to do, what to taste, and much more for world travelers seeking their next dream vacation destination.