10 Foodie Cities for the Vegan and Vegetarian Traveler
There's no doubt that there are a lot travelers who sometimes find it troubling to make some crazy food trips while traveling in many parts of the globe because of the lack of vegan and vegetarian food choices. Fortunately, the food scene is changing and restaurants are slowly becoming more accessible to vegans and vegetarians. Oh wait, what's the difference between the two? Well both don't eat meat, but vegetarians can eat dairy products and eggs while being vegan means a big "no" to all animal products. We won't go to the deeper explanation of these two but here's a list of 10 cities that will surely tickle your veggie-loving taste buds and also your feet longing to wander.
1. Ghent, Belgium
Ghent is an unexpected vegan find for anyone visiting Belgium. The local government has even mandated every restaurant to have a vegetarian dish on their menu (that can be totally vegan too) and what's more amazing about Ghent is their Thursday Veggieday campaign where skipping meat and fish is encouraged. Every Thursday, some restaurants serve a special vegetarian menu and school cafeterias serve only vegetarian-friendly food.
Try out Ghent's all vegan buffet restaurant Komkommertijd or the fast food joint De Frietketel where you can get a hazelnut burger, soy meat balls with a vegan dipping sauce, and a mountain of fries. For dessert, there's Greenway that serves rich, fudgy, vegan chocolate brownies.
2. Chennai, India
Chennai is known to be the birthplace of vegetarianism and nowadays, going vegan is making its way. Starting with the first vegan restaurant of Chennai, VeganeR serves South Indian delicacies like dosa (fermented crepe), puttu (steamed rice cake with coconut), idli (steamed rice cake), and paniyaram (spiced dumplings). Veganism may be a growing trend in Chennai but with the long list of vegetarian restaurants, it's not hard to encounter unexpected vegan dishes in restaurants like Eden and Cream Centre. It won't hurt to ask for vegan versions of some of the dishes in these vegetarian restaurants.
3.Chiang Mai, Thailand
Chiang Mai is home to 300 Buddhist temples and over a hundred vegan and vegetarian restaurants, which is not unexpected in this town known for its rich food culture. One must-visit restaurants in Chiang Mai is Pun Pun which isn't only a restaurant serving organic vegetarian Thai food, but also a place where you can learn organic gardening, do yoga, and cooking using local healthy ingredients. There's also the famous Chiang Mai Vegetarian Society for affordable, fresh, and healthy traditional Thai dishes.
4. Ho Chi Minh, Vietnam
When looking for vegetarian meals, just say "chay" (pronounced like "zai") and you'll be able to find suitable dishes for you. If looking for specifically vegetarian restaurants, you can look for the words "quan chay" and you're good to go in to satisfy that hunger. It's not even hard to look for vegan restaurants around the area and some of the places you can visit are Am Thuc Chay Mani and Thanh Tinh which serve affordable vegan Vietnamese favorites like pho and spring rolls.
5. Vancouver, British Columbia, Canada
When in Vancouver, you won't need to worry about where to get your next vegan meal. Instead, you can create your own vegan itinerary by checking out the latest and the most popular vegan-friendly restaurants around the area. Want brunch? No problem.  There's Aphrodite's Organic Café for that. Want cupcakes and other desserts? Go to Edible Flours. Are you a raw vegan? There's Indigo Food Café for you. Vancouver continues to offer yummy vegetarian and vegan treats from food trucks to fine dining.
6. Berlin, Germany
Being vegan in Berlin isn't even a tough thing with all the different kinds of restaurants that offer varieties of cuisines, from local to international. You'll even have fun shopping around the city's small grocery stores to their huge vegan supermarkets such as Veganz. The typical Berlin dish, the  döner, gets its vegan version found in Vöner (smart name right?). For fancy cakes, waffles topped with soya whipped cream, tropical smoothies, and savory soups, Café Vux will be your comfort spot. If you wanna spend the night with some mixed cocktails, the vegan bar Chaostheorie will be glad to offer you vegan snacks that'll match your drink.
7. Glasgow, Scotland, United Kingdom
Glasgow is known to be an unhealthy city receiving records such as the place with lowest life expectancy in western Europe and the place with the high rates of obesity. However – a big however – the city is paradoxically known to be the most vegan-friendly city in the United Kingdom. This can sound weird but looking around the city for vegetarian or vegan options isn't a problem at all. Burger cravings are easy to satisfy at 13th Note, which will give you Glasgow's best veggie burgers with salad and chips (fries) on the side. Do you know the Scottish sausage (known for its sheep stomach ingredient) called haggis? There's a perfect vegan version that you can find in Saramago Café. Can you have a full vegan breakfast? Oh yes you can! Try the 78. If some restaurants didn't make a mark on your taste buds, there's a lot of other awesome restaurants to try and they're just waiting for you.
8. New York City, New York, USA
The Big Apple lives up to what it has been always described as: a melting pot of cultures. People connected to culture and culture connected to food. No doubt when it comes to food, NYC can offer dishes that can either make you feel at home or like living in a foreign land. Besides the foreign and creative stuff, vegetarian and vegan options are widely available in the different cuisines offered. For sushi without the fish and seafood, there's Beyond Sushi. For an organic and raw vegan diet, Quintessence is your tummy's mate. Go to Prince Street Pizza to have a bite of their veganized NY pizza, ad try out Taïm for a fiery falafel sandwich.
9. Taipei, Taiwan
It's no hard job to look for the right cafés and restaurants for practicing vegans and vegetarians when in Taiwan. In fact, being vegetarian can be easily expressed with the help of the Chinese word "Su" (素) which means "simple" but can also be understood as "vegetarian". You can start your breakfast with a cup of fresh soy milk and vegetarian steamed bun Yong He Doujiang  Wang. For lunch, you can splurge a bit on Buddhist buffets where you can have choices of greens, rice, faux meat, soup, and noodles. For strictly vegan meals, there's the Vege Creek that lets you pick the ingredients and let the chef turn it into a nice hot bowl of goodness. For bread and desserts, you can try out Fresh Bakery and Café Taipei.
10. Portland, Oregon, USA
A true vegan paradise where no one questions your food choices, Portland is where many vegan tourists find love – and a screaming appetite. Looking for food is already a serious business because vegan food from stores as small as food carts are already everywhere. Earth Burgers boast their handmade chickpea burgers using gluten-free burger buns. And when it comes to oh-so-good doughnuts, drop by VooDoo Doughnut and buy a box of tasty sweet vegan doughnuts, from raised yeast doughnuts to cakey ones. For raw desserts (and also for those looking for something gluten-free), it's none other than Blossoming Lotus where you can try out their yummy raw cheesecakes after the nachos and barbecue. Don't forget to drop by Portland's Vegan Mini-Mall for more food and even non-food vegan items like wallets and shoes.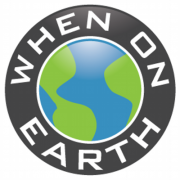 WOE Media
When On Earth Magazine is for people who love travel. We provide informative travel guides, tips, ideas and advice regarding places to see, things to do, what to taste, and much more for world travelers seeking their next dream vacation destination.