8 Destinations for Those Who Want to See Monkeys
If you're curious to know, this year you're about to enter is the year of the monkey, according to the Chinese zodiac. So how about starting the year with some monkey-fying experiences like going to an actual place where you can meet some of these cute but mean primates? Check out these actual places around the world where the monkeys are considered special when it comes to population and characteristics.
1. Gibraltar
Gibraltar has the tailless Barbary Macaques which are mainly found in Algeria and Morocco. However in the island of Gibraltar, there are about 160 monkeys living and 20 of them can be seen closely at the Apes' Den. These monkeys are playful and can be friendly too, but watch out as some can be troublesome. The Barbary Macaques of Gibraltar are seen as the only free-living monkeys in Europe today.
2. Sri Lanka
Sri Lanka is filled with many types of monkeys, from the capital up to the country's remote areas. The most common monkeys you'll find are the Toque Macaque which are more known as "Temple Monkeys". They are reddish-brown in color with a whitish underbelly and slender limbs. These monkeys are evenly distributed throughout the island from the coastal plains to the central hills. But besides the Toque Macaque, there are also other types of monkeys in Sri Lanka such as the Hanuman Langur, the Purple-faced Langur, and the nocturnal Loris.
3. Bali, Indonesia
Whenever you're in Ubud, you can visit the Sacred Monkey Forest Sanctuary where you can walk around a forest, interact with monkeys, and also visit a temple located within the forest. Getting in the forest has been known to be touristy but dangerous as these monkeys can grab people's stuff, unzip bags, search in pockets, and bite which can cause rabies.
4. Virunga, Rwanda
The Virunga Mountains is home of the rare mountain gorilla and the golden monkeys which are known to be among the most endangered primates of Africa.  These golden monkeys live in groups of up to 30 individuals within the area, jumping from one bamboo treetop to another in a snap. Moreover, you can also chimpanzees around the mountains of Virunga.
5. Borneo, Malaysia
Borneo is considered as one of the most biodiverse areas on earth and here, you won't just see any normal groups of monkeys but a variety of extraordinary primate species in the planet. These primates include orangutans, gibbons, Siamang, Proboscis Monkey, Macaques, Leaf Monkeys, Langurs, and Surilis.
6. Kathmandu, Nepal
In Kathmandu, a Buddhist Temple known as Swayambhunath is one of the many ancient religious sites in Nepal. However, it is more known nowadays as the Monkey Temple due to its monkey tenants scattered all over the temple grounds, playing and doing their thing without minding the observing temple visitors.
7. Jaipur, India
And India's Jaipur has their Monkey Temple too. The temple known as Galti Ji is situated in a valley but it can be easily reached by a car. Before you can reach the temple, you'll need to take a steep climb to the top of the hill and once you set foot on the hilltop, you can take a look (with caution) at the mischievous monkeys roaming around the temple and don't forget to pay some respects inside the temple too.
8. Taif, Saudi Arabia
Some may say they're a sight to see and some will say they're just an annoying bunch, but the monkeys in Taif will surely stay home. The monkey population has become too large and even their own natural habitat can't accommodate their huge numbers. But for Taif's tourist areas like Al-Hada, Al-Shafa, and Al-Redf these monkeys are considered as an important attraction.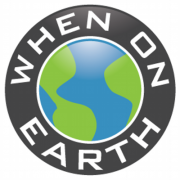 WOE Media
When On Earth Magazine is for people who love travel. We provide informative travel guides, tips, ideas and advice regarding places to see, things to do, what to taste, and much more for world travelers seeking their next dream vacation destination.